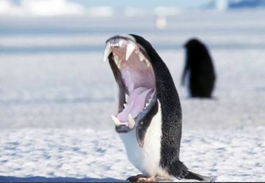 Chapter One by Evie
The Penguinapocalypse began in Starbucks. Because all good evil world dominations must begin in Starbucks. (Duh!)
It was a normal day for the coffee shop employees. Then the door opened and two customers stalked in. One of them was a blonde teenage girl and the other a rather short fellow with curly brown hair and bare, very hairy feet. They both wore low-pulled fedoras and long trench coats with the collars turned up in secret agent fashion—and were their ears POINTY? The latte boy (whose nametag said Taylor) shrugged and decided not to ask. The strange personages ordered caramel and white chocolate lattes with extra whipped cream and went to sit by the window. Taylor watched them for a few minutes, still puzzling over the oddity of the two, then shrugged and went back to work.
The girl took a long sip of coffee, then made a strangled noise and sent a shower of coffee onto her companion. "HOT HOT HOT HOT HOT BY THE LION'S MANE THAT COFFEE IS HOT!!!"
The short fellow sighed and wiped the coffee off his face, glaring at her. "Evenstar. NOT COOL."
"You're telling ME, Bilbo Baggins," Evenstar squeaked, digging through her pockets and coming up with a Twix bar. "Glad I have this. Chocolate soothes burns. Always remember that, young Skywalker, and your life will be so much better." She broke off chunks of the Twix and tossed them into her mouth. "And stop glaring at me! It's not my fault you happened to be sitting across from me."
Bilbo sighed and longed for the Shire, where there were no caffeinated randomly quoting half-elves. Then he pushed those thoughts away. They were on a mission. He stirred his coffee and glanced out the window. "Where are they…" he muttered. "Seriously how long does it take for an army of super-high-tech evil penguins to infiltrate the city's underground labyrinths that somehow we never knew about and rendezvous for coffee and plans of attack?"
Evenstar reappeared from behind her cup, licking whipped cream off her face. "No telling. They go at their own pace, but believe me, that pace is normally FAST." She shuddered, remembering her first encounters with penguins. "Maybe they got stuck in traffic. Be patient and drink your coffee."
A few moments passed. "You know, I still can't believe we're actually working for them…" Evenstar remarked thoughtfully. A frown crossed her face. "Wait….why…why are we working for them again?"
Bilbo's face went slack and took on a blank expression. He spoke in a voice that was definitely not his own—a deep harsh voice with a thick accent: "You are working for us because I command it, elfling. Do not question your fate. Welcome it. You do not know how fortunate you are to be among the ranks of the master race."
Evenstar's face took on a similar frozen stare. "Yes, master. As you say."
"Now prepare to begin World Domination. We have nearly arrived. Proceed with the plan." Bilbo snapped back to normal, blinking. "Uh.." he said in his normal voice. "What just happened?"
"Nothing. Nothing at all." Evenstar shook the blank look off, smiling as if nothing had happened. "We were just drinking coffee and….then I don't remember. Huh. Weird."
A movement outside attracted their attention. A sewer grate was being heaved aside and a sleek black and white bird's head peered out. The penguins began to flip out, and disappeared into the shadows. It was like something out of Madagascar, only much much more real and sinister.
"Let the apocalypse begin," Bilbo said. He fiddled with his Bluetooth earpiece and pushed back his sleeve to speak into his wrist-com. "It's a go. Ready and waiting, sir!"
Evenstar glanced around the Starbucks, making sure no one was watching them. "The time is neeaar, so near it's stirring the blood in their veeeins," she sang softly. "And yet bewaarree! Don't let the wine go to your braaaiiinnsss!"
For the umpteenth time that day, Bilbo glared at her to shut up. Evenstar shrugged. "What? I must sing. If the song fits, sing it!" She continued to sing under her breath.
Taylor's back was turned when the door swung silently open and hordes of penguins poured into Starbucks in a matter of seconds. They spread out, making short work of anyone in their path. Taylor turned around to see a penguin sitting on the counter, staring at him. "Um…." He was at a loss for words. "Is that a penguin? Good penguin, nice penguin…." The bird opened its maw and showed its rows of razor shark-like teeth. Then it pounced, and Starbucks was short one latte boy.
Within minutes, all the occupants and employees of Starbucks were gone. Evenstar was looking queasy and Bilbo was looking hard out the window.
"That was unexpected," Evenstar said weakly.
Bilbo just nodded, looking green.
The penguins went about locking doors and pulling window shades down. A voice, harsh and guttural, came from right next to their table. "RAAAAWWWRRR! GRUUTHHREEEE!!"
They jumped and leapt out of their chairs—Evenstar's chair hurtling across the room as she freaked out at the sudden noise—standing to attention. "Sir!" Bilbo said. Then to Evenstar, "Deep breaths, Blondie. In through the nose and out through the mouth."
The huge penguin leader stood before them, a dangerous gleam in his eyes. He took a step closer, his feathers ruffling and making him look even more intimidating. He opened his maw and emitted another impatient roar. "GRAAUUUUGG!"
Evenstar slumped against the table, breathing like a breaching whale, forgot her chair was no longer there, sat down, and promptly fell onto the floor. "Our translators are messed up," she stated. "Ow."
Bilbo fiddled with his earpiece, and waited expectantly.
"MINIONS! GOODISH WORK FOR SUCH USELESS SLAVES AS YOUS! OUR FIRST CONQUEST OF HUMAN FILTH! ARE YOURS TRANSLATORS WORKING SO THUS?"
"They work all right." Bilbo gestured toward his chair. "Have a seat, m'lord? Coffee? Hot chocolate?"
"THE BLOOD OF MINE ENEMIES!"
"Ah. I'll see if that can be arranged…" Bilbo pulled up another chair as Evenstar came back lugging her flyaway chair and another cup of coffee. "What'd I miss?
"You're good."
"NOW LET US DISCUSS PLANS FOR WORLD DOMINATIONS! STAGE ONES OF MINE VENTURE HAS BEEN SUCCESFUL! YOU HAVE PLANS AND CHARTS, YES?"
Evenstar fidgeted, twisting her long blonde hair around her fingers. "Ahhh, we HAD plans and charts, yes. But do we have plans and charts NOW? Nooo."
Bilbo slapped his hand to his face. "Evie…..please tell me you didn't lose the plans and charts."
The girl shrugged. "I have a very messy room and a husband who doesn't approve of my plans for world domination. What can I say?"
Bilbo groaned.
The penguin leader snarled, "WE NEEDEDS THOSE PLANS, MISERABLE ELFLING! WITHOUT THEMS, THE PENGUINAPOCALYPSE IT WILL NOT BE SUCCESSFUL!"
Evenstar drained her cup. "So you gave the only plans you had to ME for safekeeping? Hey, I know that's tradition, since I'm the leader of my peoples and everything, but may I just say: wow that was NOT a smart move."
The penguin leader growled.
"Please don't eat me!" she squeaked. "It won't happen again!"
Before Bilbo could open his mouth to say something to keep the peace (and Evenstar from being penguin lunch), just then a huge explosion blasted through their conversation. It rocked the building and the door exploded open. Glass and wood splinters flew everywhere. In the rubble and dust of what had once been a door, there stood a girl. She was swinging a satchel stuffed with papers and grinning. Rachel.
"Anyone here missing some plans for the Penguinapocalypse?
Chapter Two by Bilbo
Rachel stood, smiling broadly, and swinging the satchel from side to side. Her eyebrow raised ever so slightly as she amusedly took in the temporary bewilderment of the company of coffeehouse customers.
"Ah, yes," Bilbo gestured to the remains of the small round table before them. "That would be us at table 3. Care to take a seat and discuss, Rachel?"
The penguin leader, Bob the Ruthless, growled. "IS YOU GOT PLANS FOR GOODNIGHT  ADORABLE LAURA PART TWO?"
"Something is very wrong with my earpiece," Evenstar mumbled as she fiddled with her Bluetooth headset.
"He means this. And yes, of course I have it," said the newcomer as she swung the contents of her pack across the tabletop and took a seat. "Stage one is a success, of course. Stage two may be a little trickier. The guides drawn by the Council of Penguin Elders tell us we, and I quote, 'attack with vengeance and wipe out the lot of the filthy rabble as soon as possible'. This is so cryptic," Rachel said sarcastically. "Your guess is as good as mine."
"LIKE US ON FACEBOOK. I LOVE YOU ALL SO MUCH."
"Mine's messing up too," Bilbo muttered. "Anyways. Do the Penguins even HAVE a plan besides driving their enemy before us and revelling in the lamentation of their women?"
"I would assume not. That's probably -"
"WHY WE MADE YOUS CAPTIVATEDS. TO BE OURS THINKINGS AND PLANNINGS. TO SHOWS US YOUR WEAKNESSESESES. HAPPY 6TH BIRTHDAY, NOLAN."
Evenstar shuddered. How could she be working with such brutes? Then something snapped, just like before, and she became an animal. She became one of them. "South London is dominated heavily by Starbucks franchises. Take one, and you can take them all. Control coffee, and you control the city. And once you have London, the world will follow."
"YOU IS REALLY MAKING GOOD SMARTS, HUMANLINGS." Bob turned to his iPad's screen and spoke a few commands to a smaller penguin with an aviation style headset and an array of controls before him. "TAKE ALL STARBUCKERY PLACES ACROSS LONDON. SECURE THE FRENCH VANILLAS. LETTERS TO GRANDMA CAN MAKE THE WORLD A LITTLE BETTER."
The aviator-looking penguin nodded and fiddled with buttons and knobs all around him. Whirring sounds and chatter hummed through the iPad's speakers.
Bilbo tapped his earpiece again. His thoughts were similar to those of Evenstar. How could he even begin to - and then nothing. Mindless robotic obedience ensued, trapping his mind in a straight jacket. "And my lord. The mind control poison must be injected daily into the coffee for your plan to work. Once the victims are mind-numb, you can take them out at your leisure. Humans have a need for caffeine like penguins have a need for the blood of their enemies."
Bilbo's plastic grin set Rachel on edge. So this had been fun, but really, wasn't it time to call this the end? Nope. She felt a hand grip her mind and she knew that they must please their penguin lords. They must take the blood of their enemies. The blood of OUR enemies.
She watched as Bob's tablet displayed live footage of the takeover of Starbucks' across London. Baristas dropped behind the counter as penguins in revolting rubber face masks assumed their places in the blink of an eye. Customers sipped Caramel Mocha Lattes happily and immediately their eyes were glazed over with a drowsy complacency. Rachel saw all this, but felt nothing.
"YEEESSSS. YESSSSS!!!" Screeched Bob. "I LIKE TO MOVE IT MOVE IT."
At this moment, something very interesting occurred. A small gold and blue something flew up out of the grungy manhole the penguins had marched through just a minute or two earlier. It lifted and dropped gracefully through the dismal South London fog like a light in a dark room. The Fancifly, for indeed, that is what these wondrous creatures are called in the world of men, jumped across the air without a qualm or worry
Evenstar stared blankly at the wall. "Must. Serve. And. Obey."
No one noticed the beautiful creature silently land on the elven girl's nose, but when it's feet touched base, she suddenly remembered who she was. She was Evenstar. And Evenstar is NOT a penguin killer.
"WHAA?! WHAT IS YOU DOING, ELVEN THING? GET VILE BUG OFF YOUS NOSES!"
Bilbo swung his head lazily over to look. They were still all seated around the table, sipping Venti Frappes and watching the security cameras feed the takeover across the city.
"Hmm," he thought. "Inexplicable buggy thingy, haha. Inexplicable. Inexplicable. Haha." He grinned and took another sip.
But just then another Fancifly floated into view. And another. And another! Soon the whole room was filling with Fanciflies. One landed on Rachel's head. A bright green one flapped down onto Bilbo's shoulder.
Suddenly they all realized what they were watching on Bob's iPad. And suddenly Bob knew it too. He slammed his flippers down on the table and screamed, "GRRRRREEEEAAAAWWWRRR!"

Chapter Three: by Evie
The coffee shop was plunged into pandemonium. Alarms started going off and penguins ran around yelling in their language and tapping computer keys. The air was so full of fluttering colorful Fanciflies that it was hard to see one another.
Fanciflies landed all over Evenstar, Bilbo, Rachel, and even Bob, swarming so thickly that it was hard to breathe. The mind control had snapped and the three non-penguins were freaking out. A long drawn out scream, someone yelling "AH GERROF ME, INSECTS!" thrashing bodies and waving arms. And then, just as quickly as they had appeared, they were gone. The swarm of Fanciflies had disappeared into thin air, leaving a haze of sparkles in the air. Evenstar, Bilbo, and Rachel sat or stood around the table still in various poses of freaking out, in stunned silence, their mouths partly open in shock.
"Whaaaat just happened?" said Bilbo, slowly.
Rachel shook her head, her eyes wide. "And I thought the whole evil penguins taking over the world part was weird," she muttered. "Why oh why did I ever leave Narnia?"
Bob shoved his beak into Evenstar's face. "WHATS JUST HAPPEN?" He roared. "SPARKLY BUGGERS. WHATSES WERE THEY, NOW? SPEAKSES UP, MONGOOSE!"
"Uhhh, good question." The girl's eyes were fixed on the tabletop. "But I have a better one. Where's your oh so very important high-tech minion mind-controlling iPad and oh so very vital to the mission plans?"
The penguin leader swung his head around and emitted a long ear-splitting cry of rage. "MINE TABLET OF DESTRUCTION!! MINE PLOTTINGS AND PLANSES!! IT IS GONES, IS IT, MY PRECIOUS??"
Bilbo leaned in, a peculiar expression on his face. "You don't think….those Fanciflies took them?"
Evenstar leaned in, as well, absentmindedly stirring her straw around in her cup. "Why? Why would Fanciflies steal a penguin's battle plans and iPad?"
"AFTER MINE MINIONS DESTROY HUMANLINGS, THEN WE DESTROY FANC'FLIES, YEEHAW!"
"Maybe they're trying to stop the penguins," suggested Rachel in a low voice. "Maybe they're on OUR side!"
Evenstar frowned. "But…wait. Huh? I thought…WE were on the PENGUIN'S side. We're taking over the world, remember? With the penguins. And besides, Fanciflies aren't that smart."
"Are they, now," Bilbo whispered excitedly. "Someone could be controlling them. Someone like—"
Bob thumped his flipper on the table. "WHATS IS YOU HUMANLING AND ELVENLING AND HOBBITLING THINGSES WHISPERING ABOUTS? NO WHISPERINGS. YOUS TRY TO DOUBLETRACK ME, AND YOU WILLS BE EXTERMINATED!"
Evenstar disappeared underneath the table with a squeak of fright. "DALEKS! DON'T EXTERMINATE ME!"
Rachel sighed and began to talk soothingly to Bob, trying to placate the penguin leader, shooting a look at Bilbo that said, You handle her.
Bilbo kicked Evenstar. "Evie? You can come out now. There aren't any daleks here."
"Are you sure?" A pair of wide blue eyes appeared along the edge of the table.
"YES."
The rest of Evenstar appeared. "Oh." She slid back onto her chair. "Where were we?"
Bob, looking less ruffled, barked, "I WILL NOWS ASSIGN YOU MINIONS JOBS IN MY ARMY."
Bilbo's eyebrows shot up. "Jobs? We get jobs in your…."
"Em, can we discuss this first," Rachel looked nervous. "Will that be a permanent job, or uh.."
"NOT PERMANENT, NOT PERMANENT AT ALL. HAVE A SUGARCUBE?"
Evenstar looked relieved. "Oh, that's good. Because after we take over the world and stuff, I'd like to get back to being an elf. This penguin business is fun and all, but hey, we all have our own lives to live, Bob, me old pal!"
"YOU WILL MERELY BE IMPLANTED WITH UPGRADED COMPLETE MIND AND BODY CONTROLSES AND PROGRAMMEDED TO MINE ORDERS. DON'T WORRY, BE HAPPY."
"What??" All three friends looked at each other, appalled.
"But, you said it wasn't permanent!" Rachel looked like she wanted to wack Bob over the head with her spoon.
"IT ISN'T. THE SYSTEMSES WILL EVENTUALLY RUN DOWN AFTER A HUNDREDS YEARSES OR SO."
Evenstar stood up. "Well I won't stand for it. I'm not going to become a pawn in your game, Bob. If you refuse to treat me like an elf, then I'll just leave. You can take over the world on your own."
Bilbo and Rachel stood as well. "Yeah, what she said," said Rachel. "Just substitute human for elf."
If penguins could smile, then that's the expression that was on Bob's cruel face. "IT'S TOO LATES, MINIONLINGS," he barked. "YOU'RE ALREADY UNDERS MINE POWERS. DING DONG THE WITCH IS DEAD!"
Evenstar's face went slack. So did Rachel's, and Bilbo's. They stared into empty space and spoke simultaneously, "As you say, Master. Speak, and we will obey."
"HOW WOULD YOU LIKES TO BE IN MINE ARMY? WE HAVE COOKIES!"
Under mind control, they answered, "Yes, Master. Whatever you say, Master."
They were led away by a bodyguard of penguins, walking stiffly and with jerky movements. The Evil Penguin leader watched them, chuckling a throaty, growling laugh. He looked out of the window at the chaos going on outside as the Penguinapocalypse raged on. People ran around screaming or in zombie-like trances. Penguins filled the streets, their jaws open and their teeth bared.
"TRY ALL YOUS WANT, FANC'FLIES, BUT YOUS CAN'T STOP ME NOW! THE HUMANLING WORLD IS MIIINNNEEE!!!"
Community content is available under
CC-BY-SA
unless otherwise noted.